The run up to Christmas 2016 was a busy time – several requests for platters and twig vases to be given as gifts, but a couple of left-of-field requests that put me on a steep learning curve. The first was from the wife of an old friend who is a fine clarinetist, and who had mused that he would like to have a wooden music stand to replace his old and battered metal one for practice at home. She had searched high and low to find one as a surprise Christmas present but without much success, and so asked if I could make one. Quite a challenge, – to make something that was functional but that also looked good, especially as most of my previous experience had been in free-form carving, not fine woodworking with precision joinery.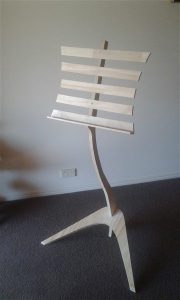 It soon became clear that to make it fully adjustable would stretch my skills to breaking point, so we covertly measured the height and angle at which the metal stand was invariably set so that I could design a fixed stand tailored to his usual playing position.
It seemed prudent to first build a prototype in pine as a practice run, and this all seemed to go reasonably well.
Flush with success, I set about making the final version in New Guinea Rosewood. This all went very well until the final clean- up stage, when I cheerfully but disastrously planed off too much wood from the foot piece. The pride that I had taken in making the difficult joint with the main shaft with such precision was soon dissolved into angst, at the site of a new small but calamitous gap between the pieces that made the stand wobble drunkenly from side to side, unable to hold itself up, let alone a sheet of music. I obviously needed some help, and so sought advice from an excellent local fine woodworker and teacher Robert Howard I signed up for a few lessons, which I obviously should have done before I started cutting the wood.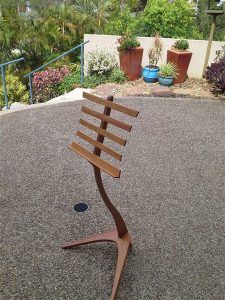 He took one look at my wobbly joint and said that although it might be possible to repair the damage, that it would be much better to cut a new foot piece. I ruefully agreed that a quick kludge was not the way to go. Fortunately I had enough rosewood left to cut a new foot and upright and with his help made a much better joint the second time around.
I also learned a lot of other skills from Robert in a short space of time and would thoroughly recommend him as a teacher, for both carving and fine woodwork.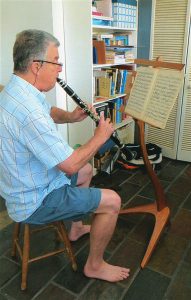 The final version seemed to be very well received, and there is evidence that it does now keep the music roughly where it should be.
Rob Howard said that it wouldn't be too difficult to make an adjustable Mark II version, but I said that I needed some therapy with my usual rough woodwork for a while before I would feel adventurous enough to tackle the fine form again.